Nike Kids Mercurial Superfly VII Academy TF - Laser Orange/Black/White
Laser Orange/Black/White
$45.00
$65.00
Save $20.00
100% Authentic Product
All Products Shipped from Atlanta (GA)
Upgrade to FedEx Standard Overnight for Next Business Day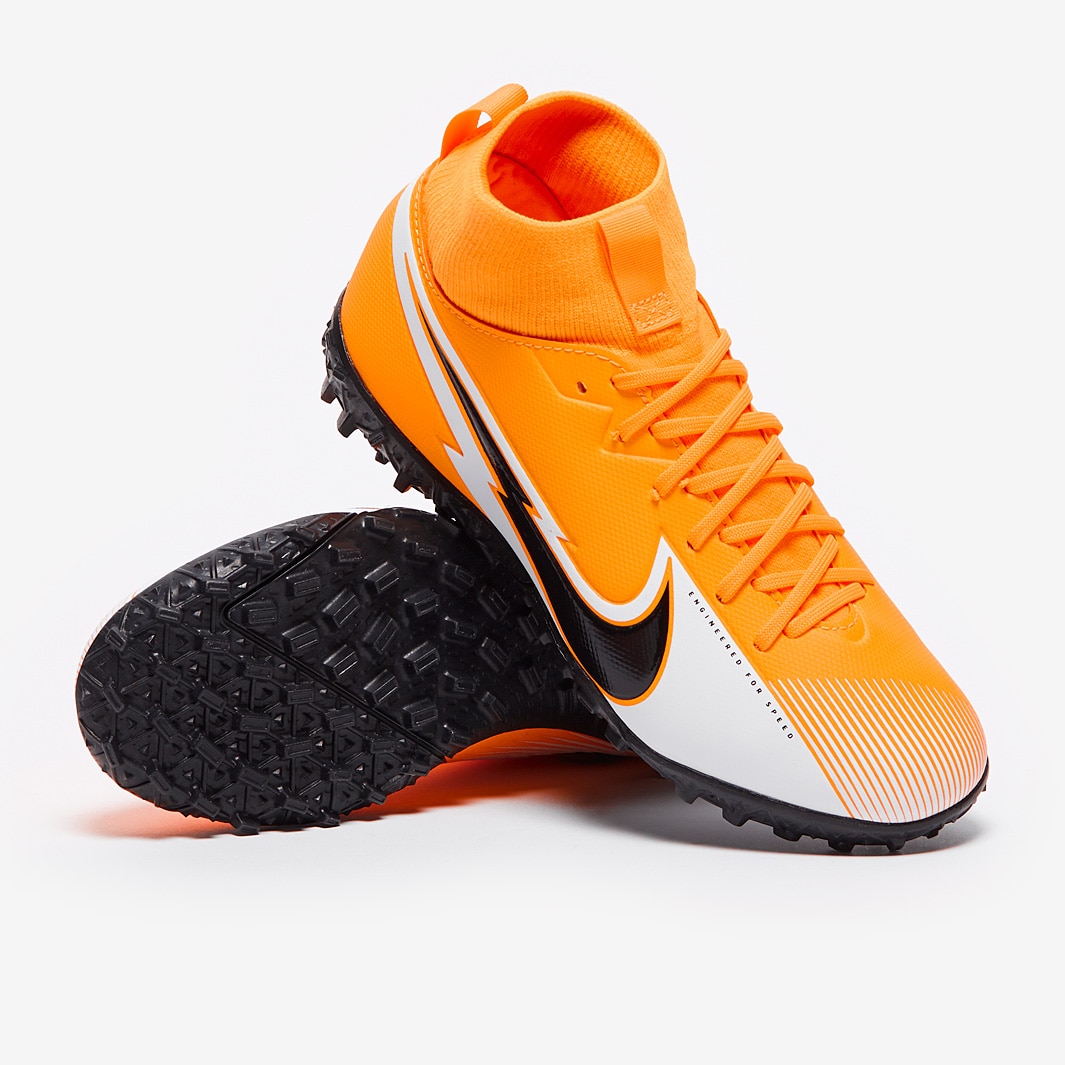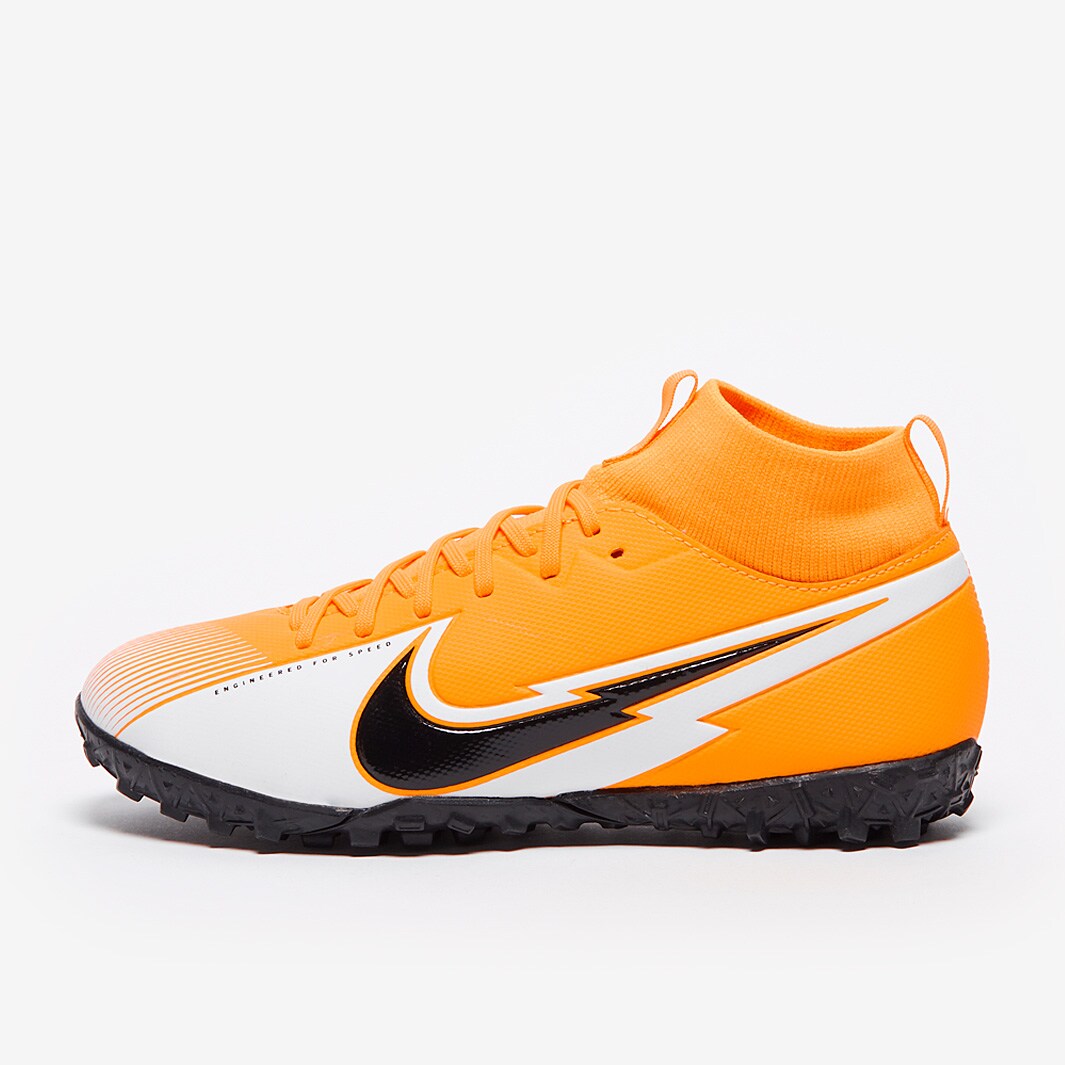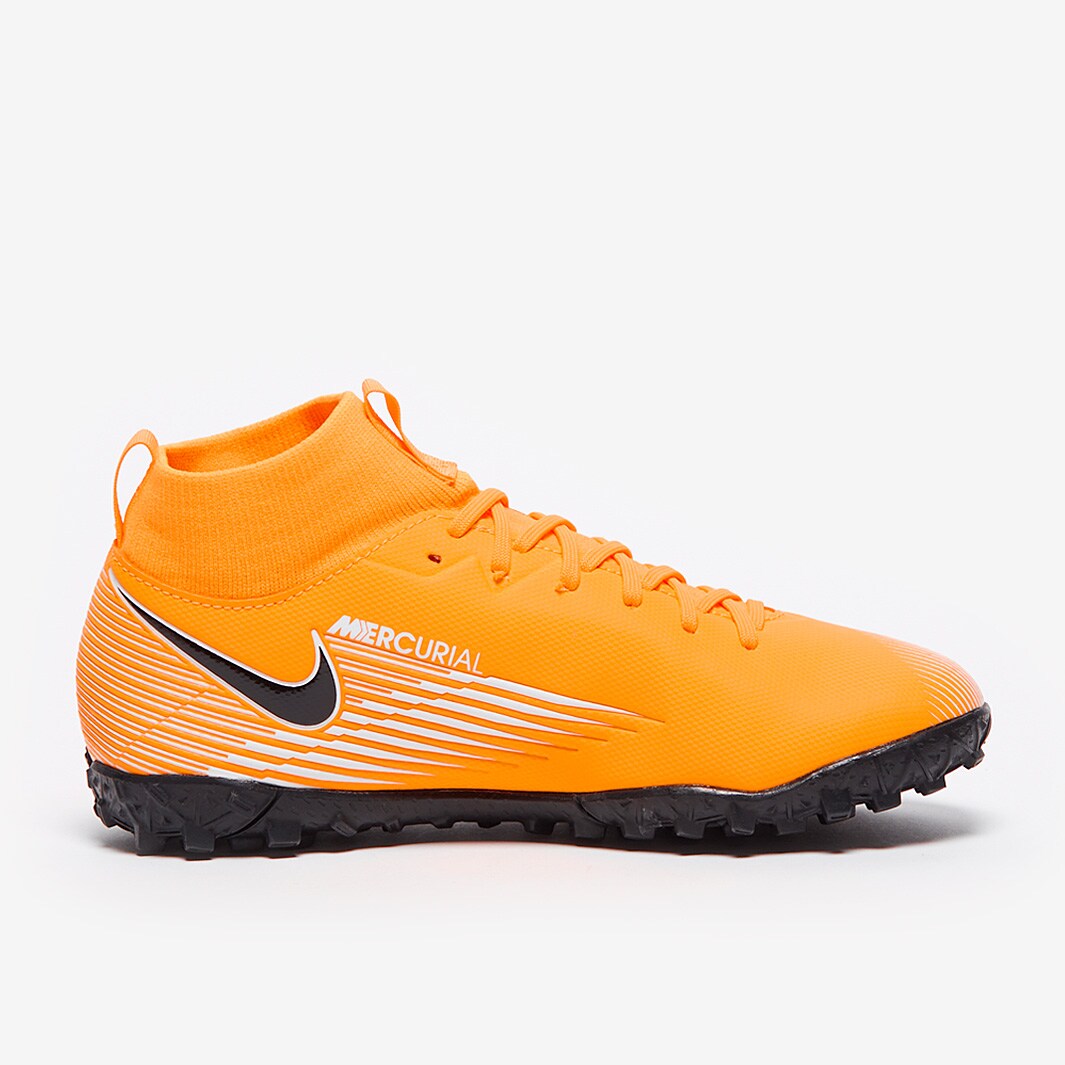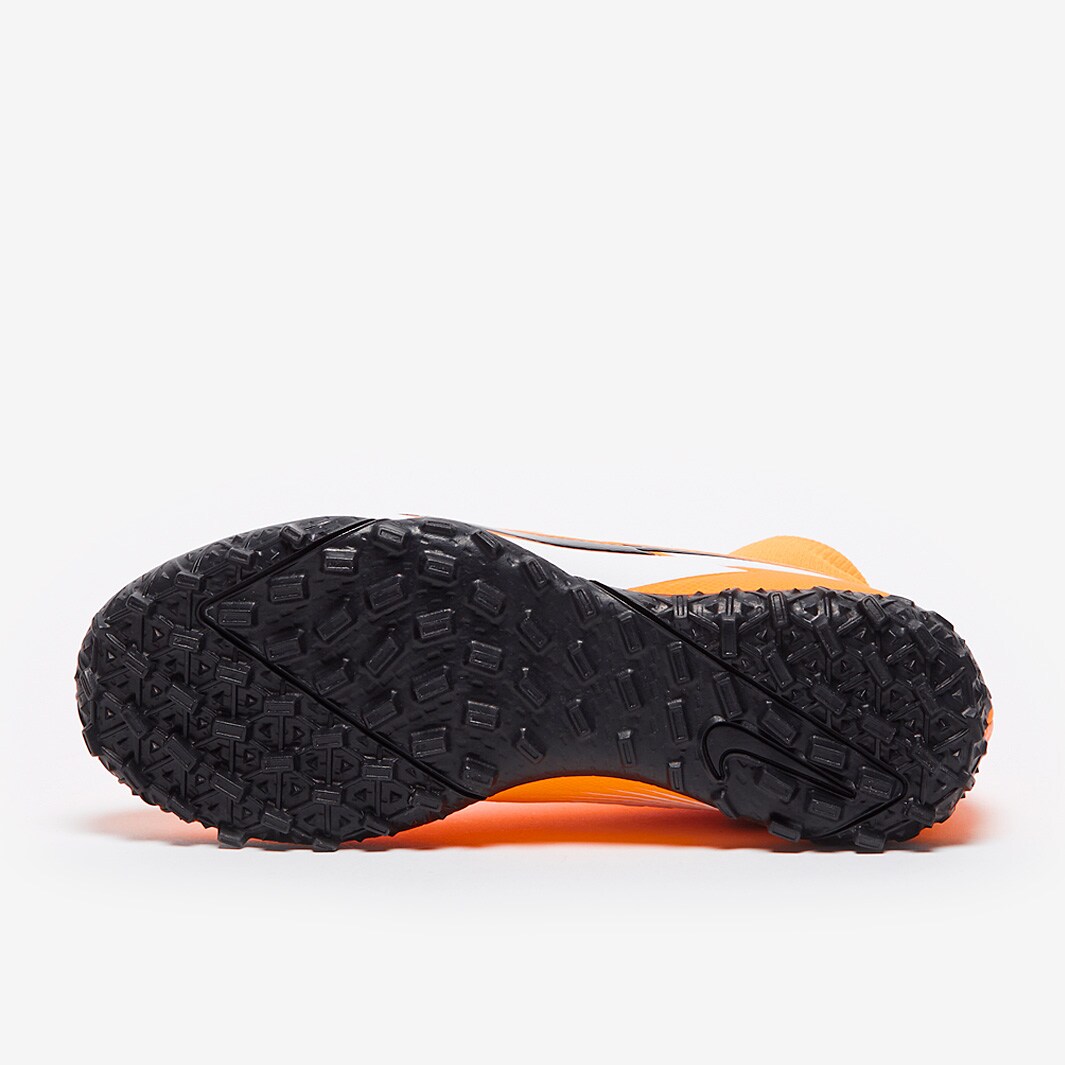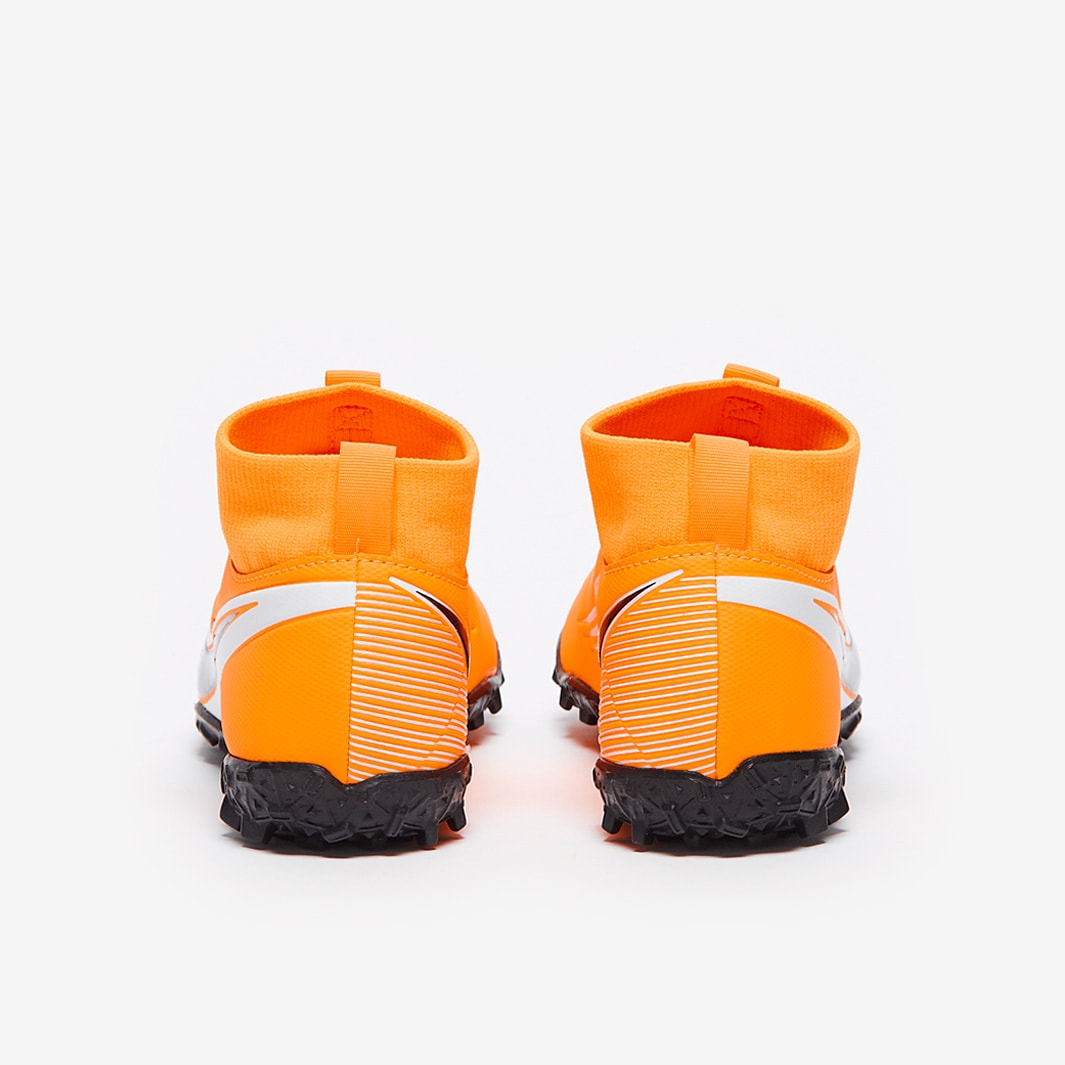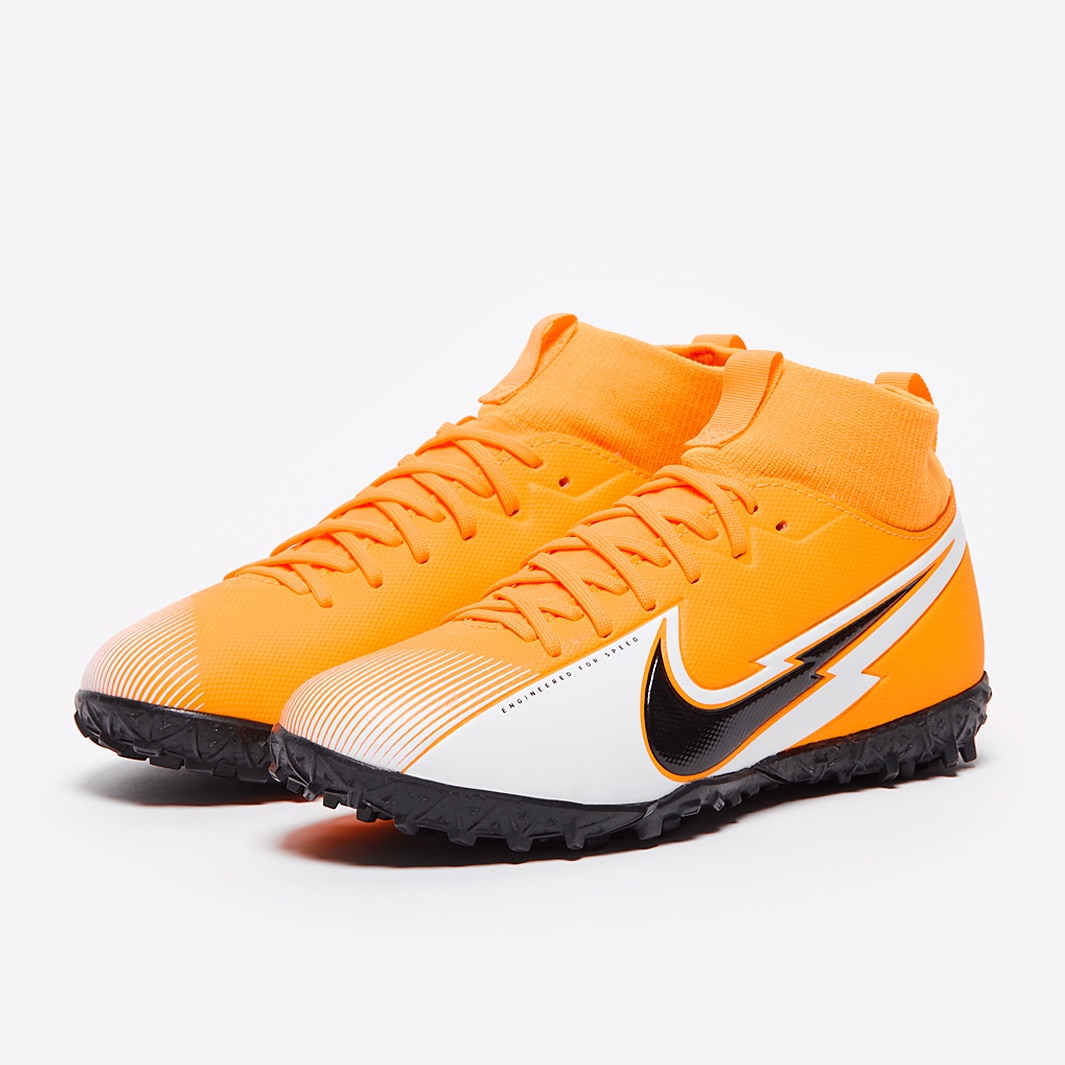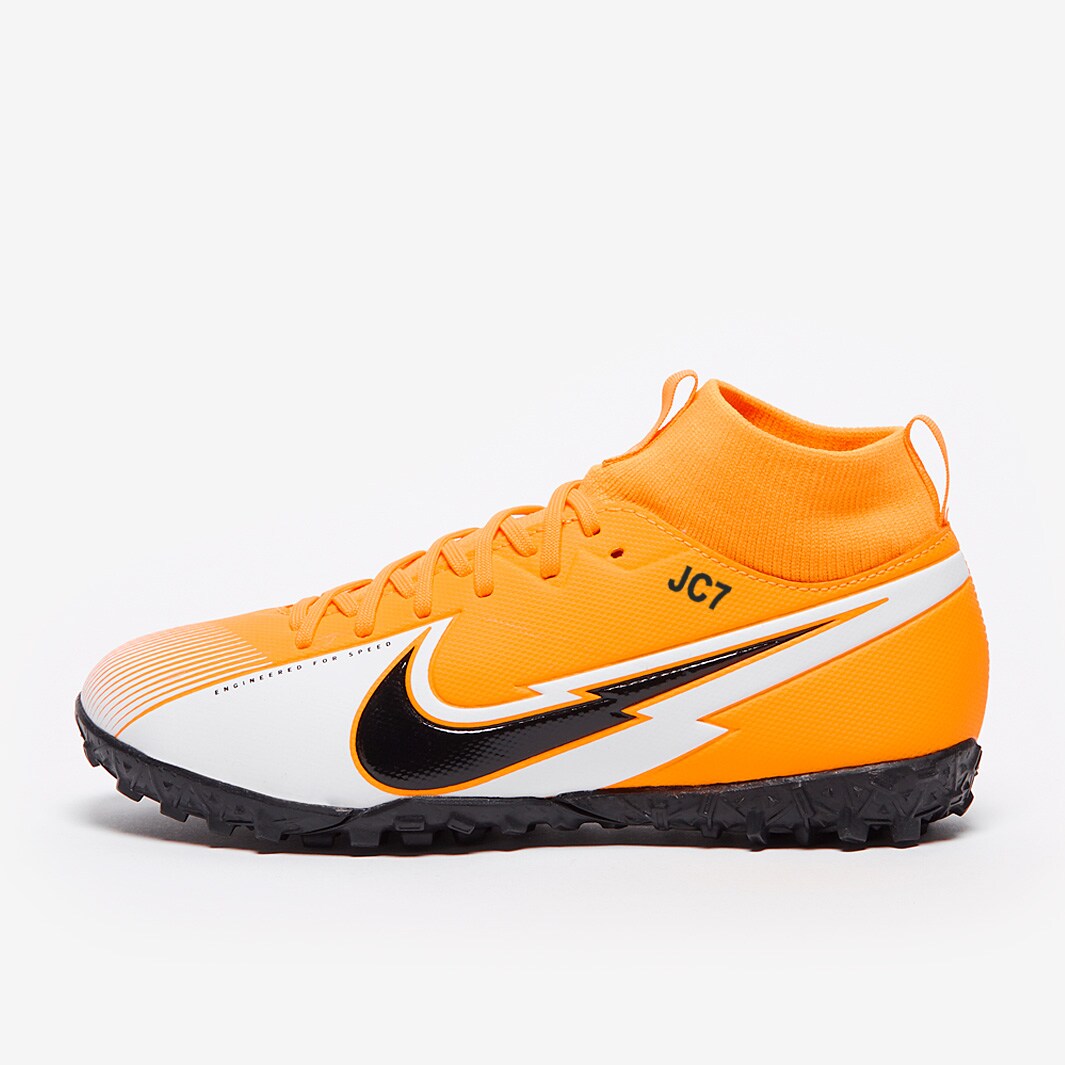 Get lightweight lockdown for pure speed and devastating rapid cuts with the Nike Kids' Mercurial Superfly VII Academy TF soccer shoes which offer a seamless, second-skin link between the shin and foot.
The Nike Kids' Mercurial Superfly VII Academy TF soccer trainers have a soft, textured synthetic upper to provide a precise touch on the ball. Creating that seamless link for a second skin feel, the Dynamic Fit collar works with the Superfly's internal lining to wrap around the foot for a comfortable fit. A lightweight sockliner ensures superior cushioning under the foot with every step and the rubber outsole is designed for lightweight traction and speed on artificial turf surfaces.
Elite adult version worn by Cristiano Ronaldo, Kylian Mbappé, Jadon Sancho and Pierre-Emerick Aubameyang Soft, textured synthetic upper gives you the touch you need for creativity at high speeds Sockliner for lightweight cushioning Higher plate overlap on the toe for added durability Dynamic Fit collar links your foot and lower leg Rubber outsole designed for use on artificial turf surfaces

Colour:

Laser Orange/Black/White

Quick Ref:

226165

Man. Ref:

AT8143-801

Firm Ground

Cleats with Firm Ground soleplates are only to be used on natural short-grass surfaces that is firm underfoot but may be slightly wet. Designed specifically for this playing surface, they offer acceleration, comfort and enhanced traction, dispersing stud pressure evenly across the foot. FG soleplates are fixed (not removable) and are used worldwide; wetter countries tend to use them spring to autumn. FG boots are not to be used on artificial ground (AG) surfaces as the construction is not designed for the extra friction. FG cleats used on AG surfaces will invalidate the manufacturer's warranty.

Soft Ground

Soft Ground (SG) soleplates are specifically designed for use on wet and soft to very soft natural grass pitches that may also be muddy and/or waterlogged. Used worldwide, mainly during winter months, cleats made for soft ground have removable, replaceable screw-in studs that can be plastic, entirely metal or metal-tipped and typically come in a six-stud configuration (4 at the forefoot, 2 slightly longer at the heel). Screw-in studs must be checked and tightened before use as during manufacture they are machine-inserted and may be loose.

Turf

Turf (also called Astro Turf) is an older, more unforgiving type of synthetic-grass surface consisting of either sand or water-based carpet typically laid on concrete. Subsequently a harder and faster surface, cleats for use on turf (TF) usually have a cushioned midsole and a very durable, flat, multi-lugged or dimpled rubber outsole because turf requires light stud penetration. Owing to the hard nature of the surface and the friction it creates, no other outsole type should be used on turf and will result in considerable wear to the studs and soleplate edges and may result in injury.

Artificial Grass

Artificial Grass surfaces (also known as an all-weather surface) typically consist of 3G (rubber crumb) or 4G (longer pile, combination of rubber/sand infill, more closely resembling actual grass). Fifth generation artificial grass is yet to be widely used. Cleats made for AG are specifically designed, usually with less nylon to increase durability for the extra abrasion associated with synthetic grass and feature more numerous and densely concentrated studs. They may also vary in height for improved traction and/or hollowed-out to reduce weight and enhance cushioning. AG cleats can also be used on firm ground (FG), though performance will depend on how dry and firm it is.

Street

Street typically describes pitches or surfaces that are often found in inner-city residential areas. They consist of varying hard surfaces such as tarmac, paved or concreted hard-court areas and are often contained by a 'cage' constructed of steel or wire netting. Shoes for play on Street (ST) pitches will have an outsole made of extra hard-wearing rubber with a multi-lugged traction pattern similar in appearance to turf shoes. They also usually have midsole cushioning for shock absorption and comfort and are equipped with extended rubber toe bumpers to cope with scuffing.

Indoor

Indoor surfaces for small-sided games such as 5-a-side and Futsal are usually flat, extremely hard and unforgiving and typically consist of varnished wood, linoleum or a smooth, painted synthetic or composite material. For grip, indoor outsoles (IN) are usually flat to maximise ground contact and slick in appearance with a minimal, non-aggressive traction pattern or grooves for flex and to dissipate surface moisture. They typically use non-marking moulded gum rubber and usually have midsole cushioning for shock absorption and comfort. Indoor shoes cannot be used on abrasive street surfaces such as concrete or gravel as they will quickly wear out.