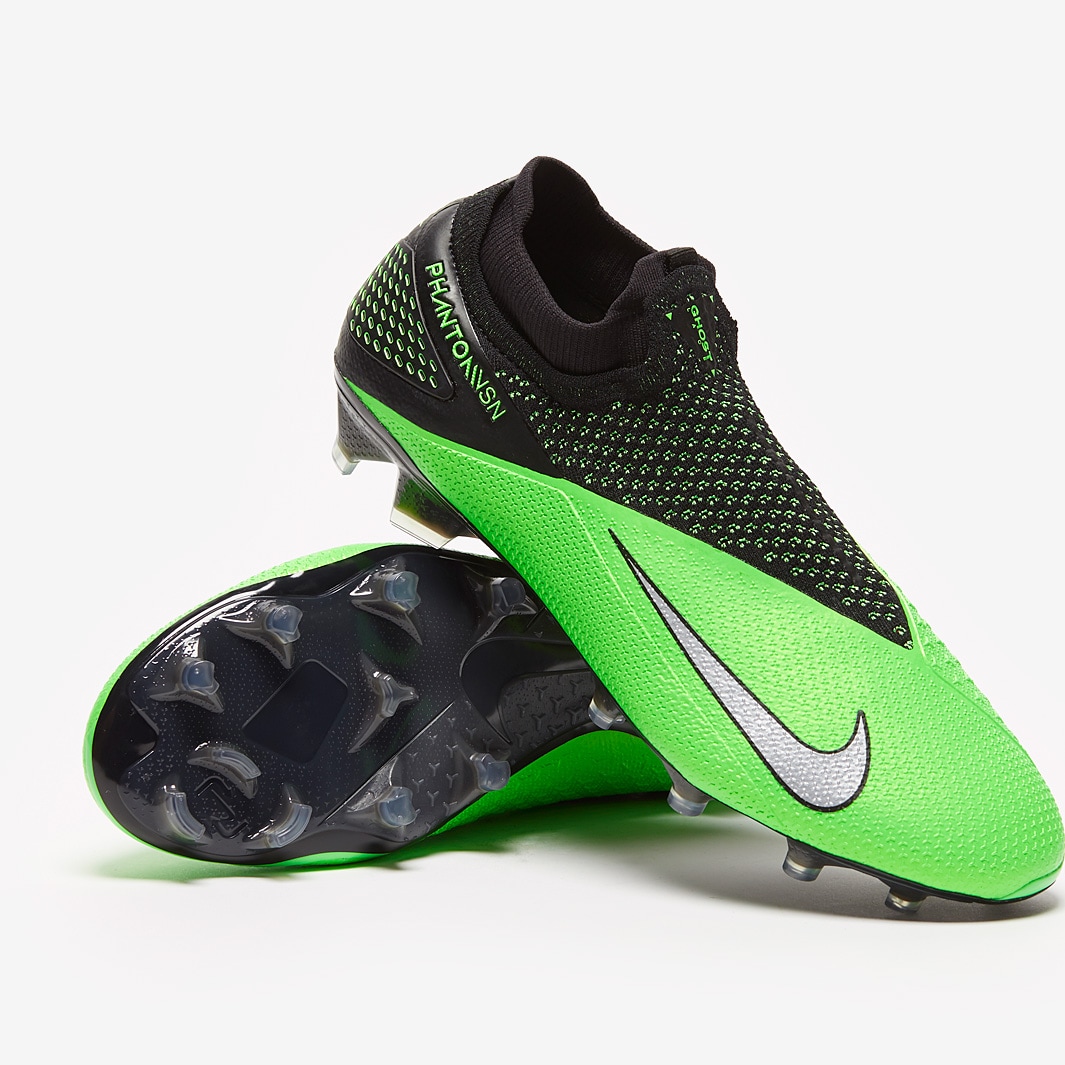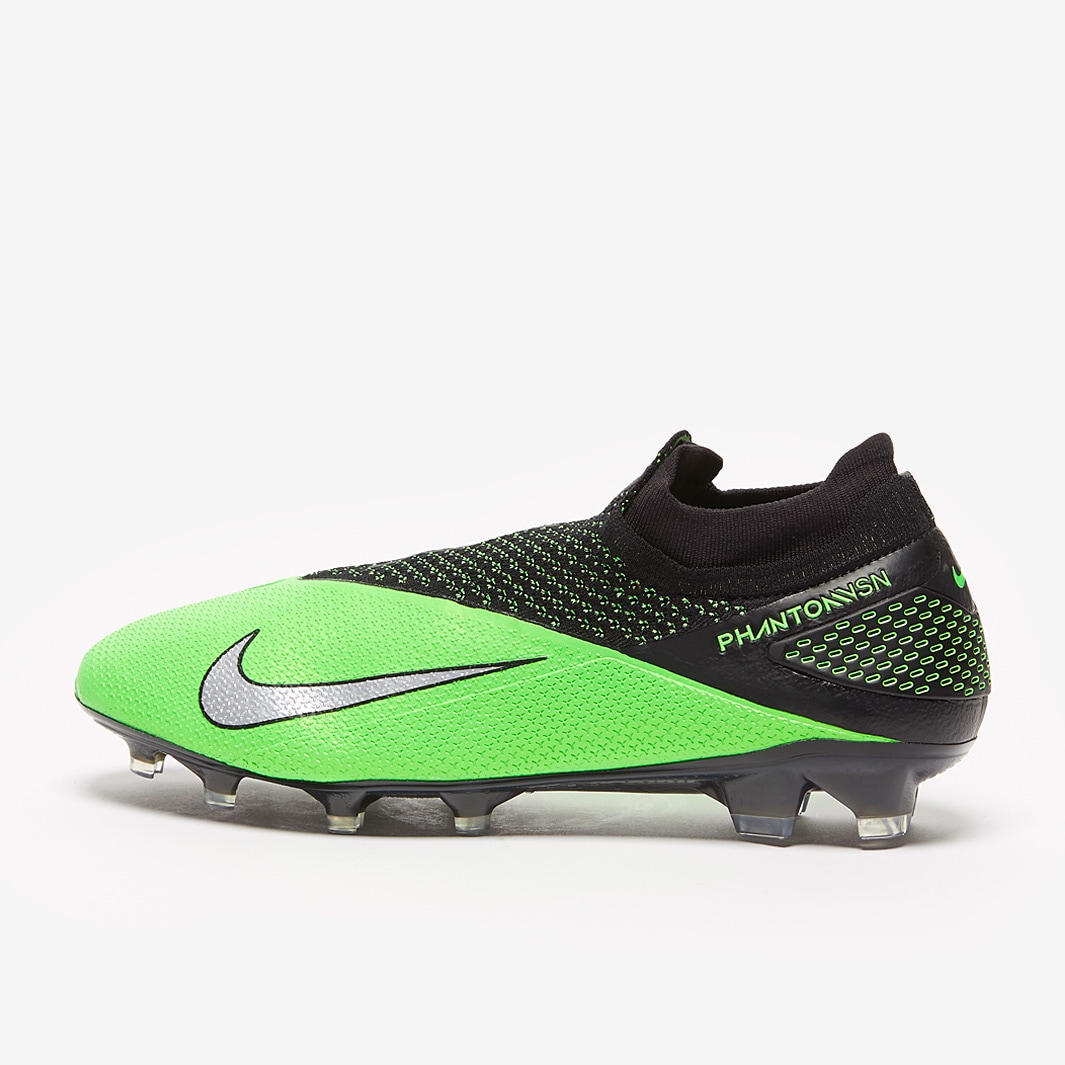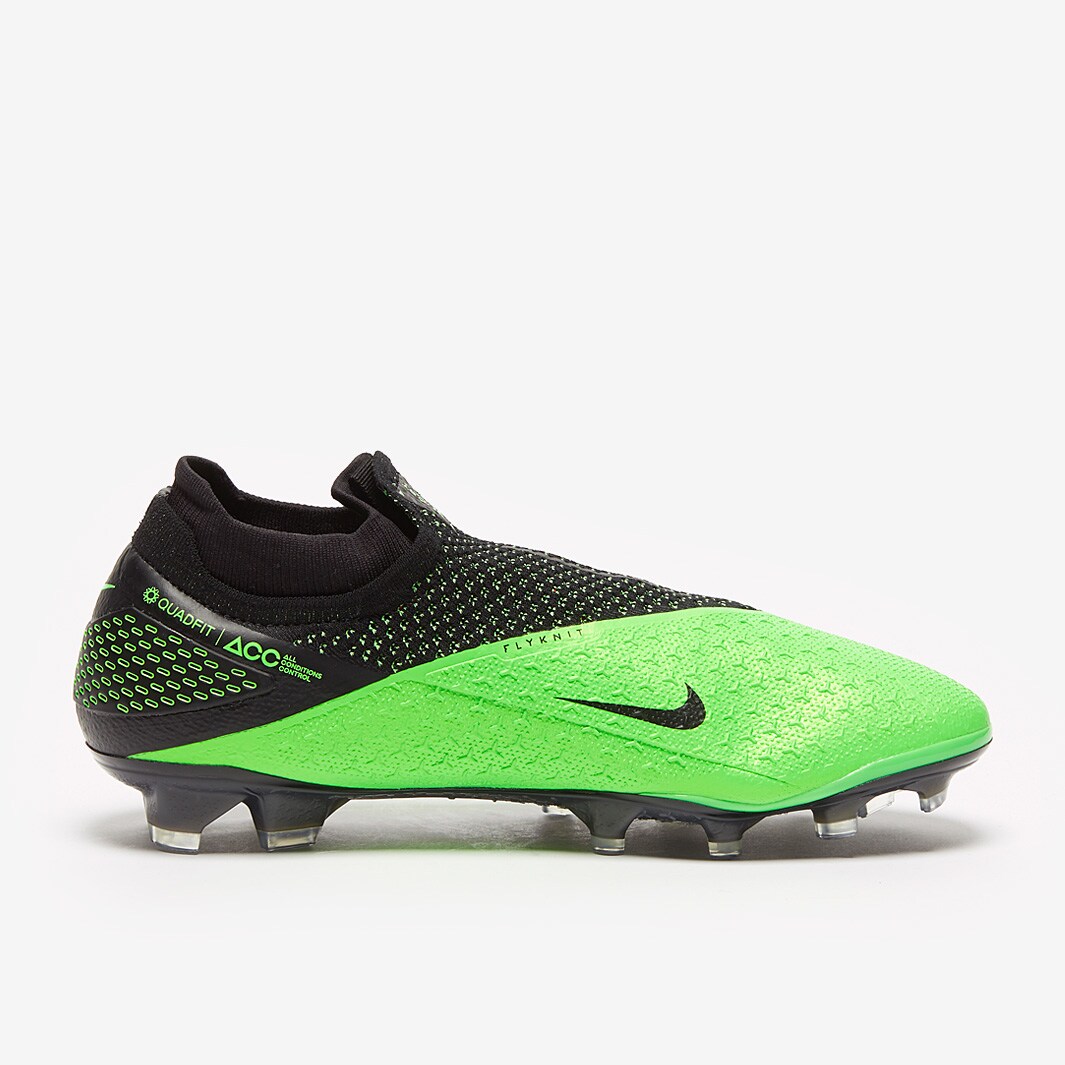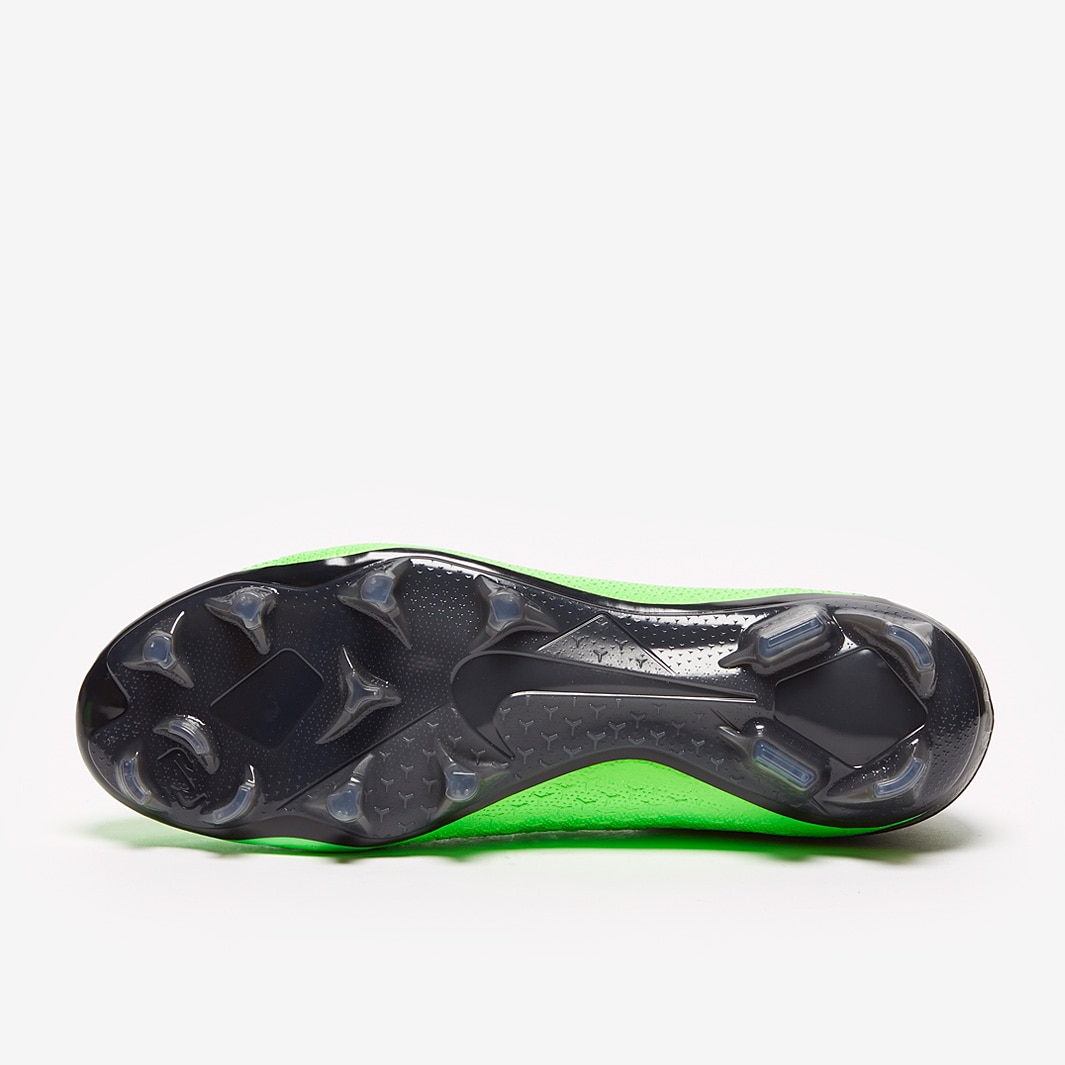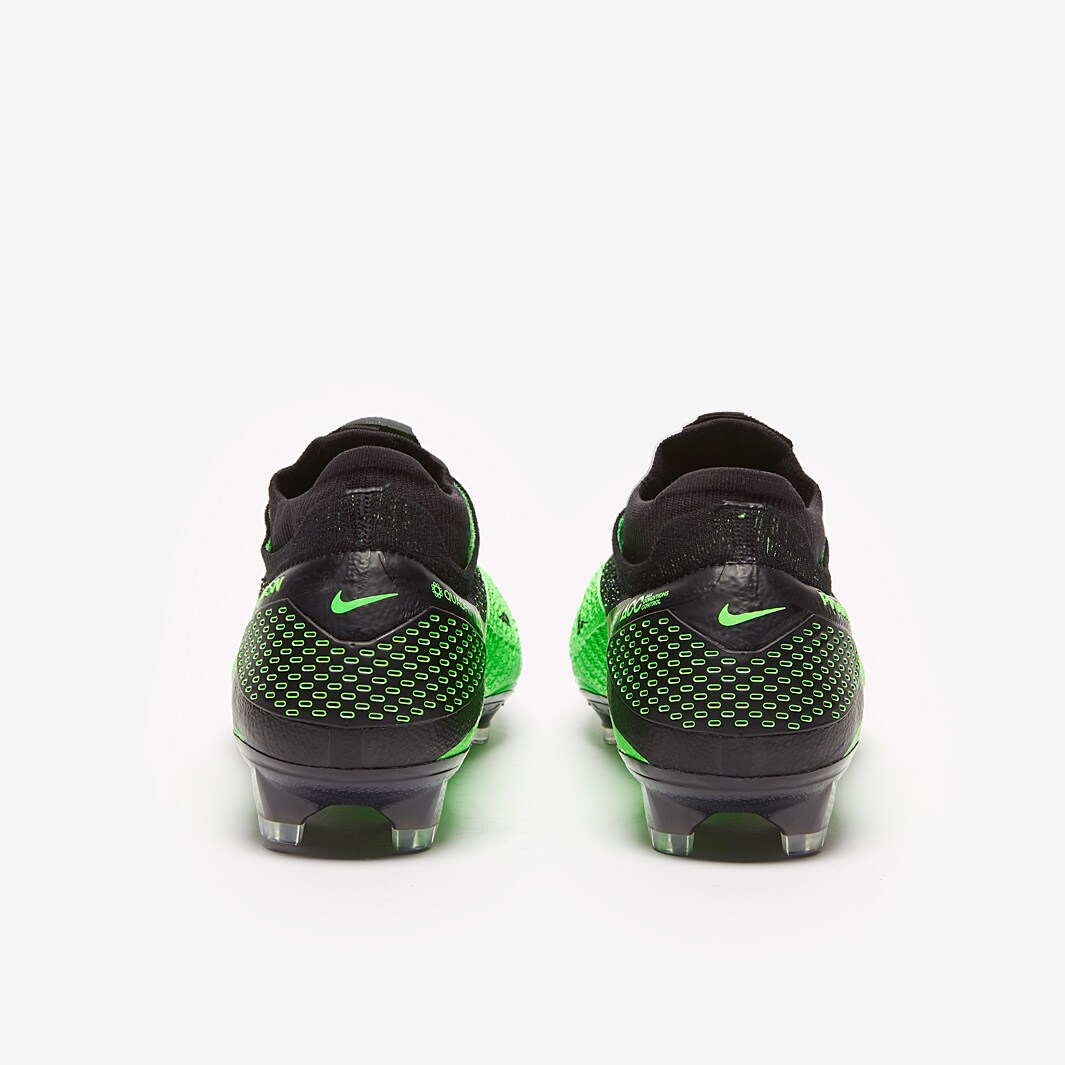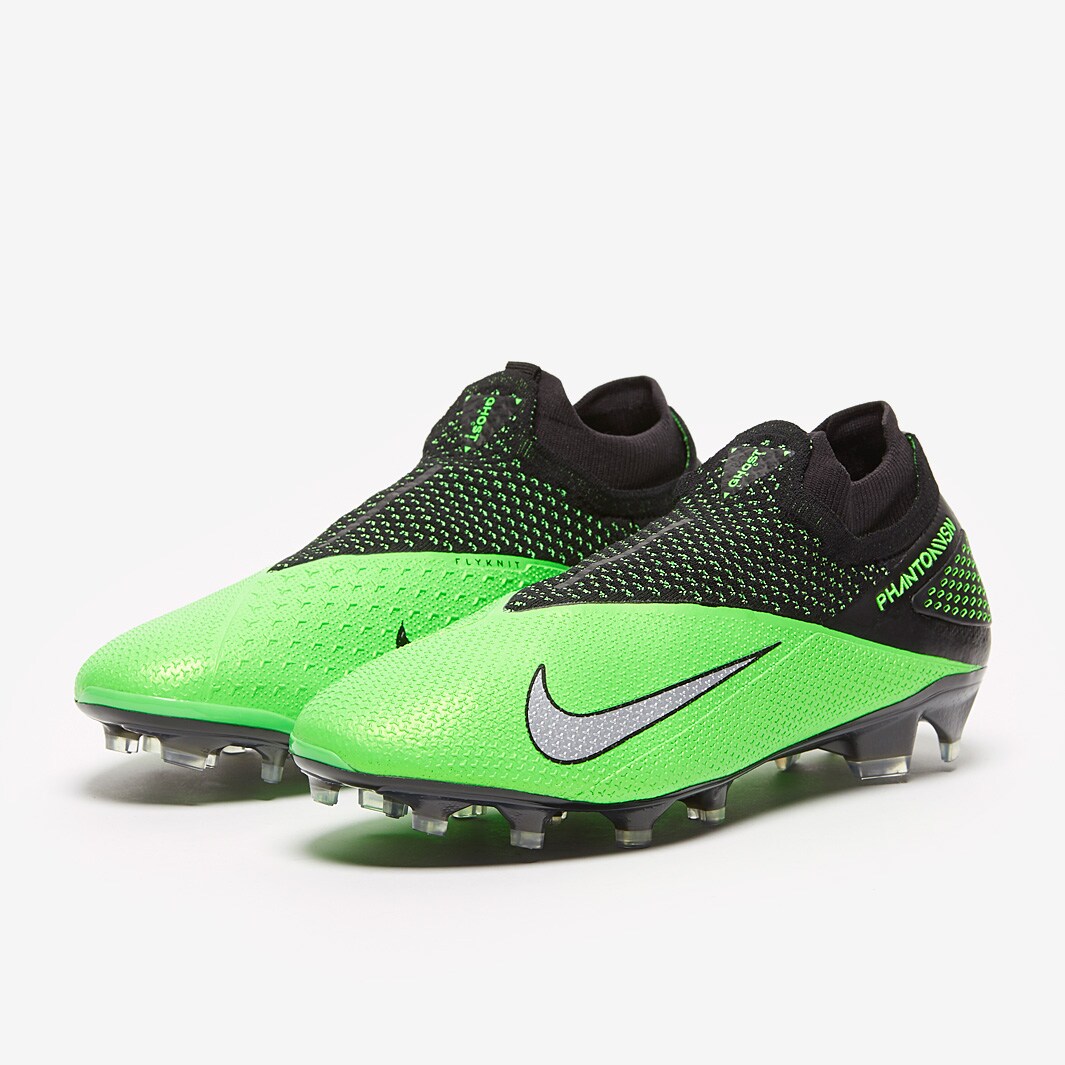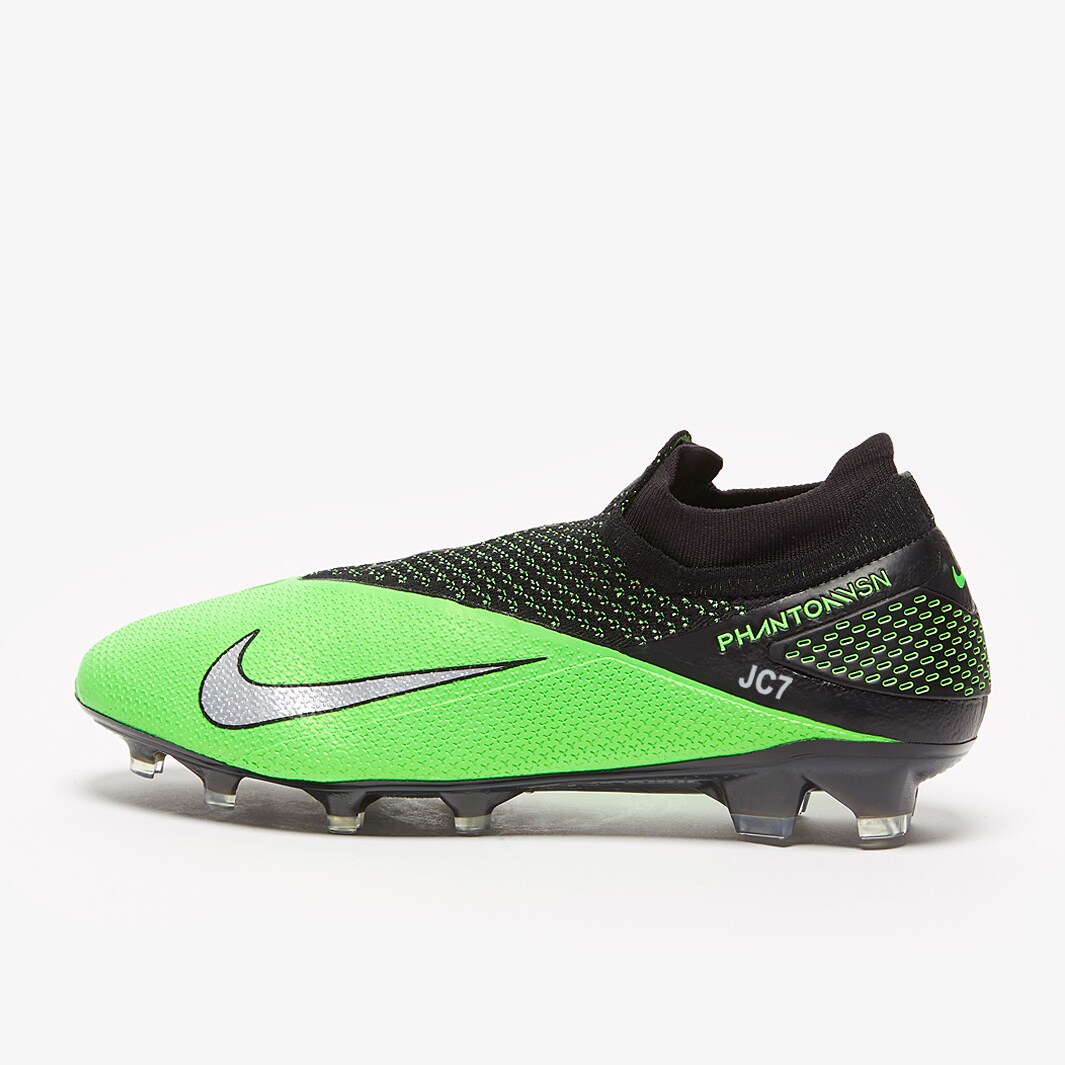 Please note: If you haven't purchased this product before, to achieve the perfect fit, Pro:Direct recommend you go up a size for the Nike VSN range.
The Nike Phantom VSN II Elite DF FG soccer cleat brings a new level of fierce precision to the attacking third with a revamped look that's ready to dominate the fast-paced modern game. A reduced, soft and stretchy knit Dynamic Fit collar delivers a more streamlined feel, fewer distractions and a comfortable fit for lethal playmakers like Belgian superstar Kevin De Bruyne. For a better touch on the ball, mesh layers in the strike zone of the original VSN have been removed on the VSN II and ACC (All Conditions Control) has been applied to the upper to offer ultimate control whatever the weather throws at you. The Ghost Lace system tightens the closure with one pull and enhances lockdown and comfort while staying hidden under the collar as the Flyknit construction on the upper integrates areas of high breathability, stretch and support. Inside the cleat, the Quad-Fit mesh lining hugs your foot without being constricting to deliver dynamic support for cuts and the targeted texture on the upper allows for precise touch and control when passing, shooting and dribbling. The Hyperprecision plate and hybrid cleat configuration provides lightweight responsiveness for hard cuts and bursts of speed on firm natural ground as the forefoot rotational zone assists quick turns in tight spaces on the field.
Designed for use on firm, natural surfaces Worn by Kevin De Bruyne Quad-Fit mesh lining hugs your foot without constriction Soft and stretchy knit Dynamic Fit collar ensures comfortable fit Ghost Lace system Firm ground Hyperprecision plate ACC (All Conditions Control) coating Forefooot rotational zone Flyknit upper construction combines stretch, breathability and support Targeted texture on the upper

Colour:

Black/Platinum/Green Strike

Quick Ref:

221391

Man. Ref:

CD4161-036

Firm Ground

Cleats with Firm Ground soleplates are only to be used on natural short-grass surfaces that is firm underfoot but may be slightly wet. Designed specifically for this playing surface, they offer acceleration, comfort and enhanced traction, dispersing stud pressure evenly across the foot. FG soleplates are fixed (not removable) and are used worldwide; wetter countries tend to use them spring to autumn. FG boots are not to be used on artificial ground (AG) surfaces as the construction is not designed for the extra friction. FG cleats used on AG surfaces will invalidate the manufacturer's warranty.

Soft Ground

Soft Ground (SG) soleplates are specifically designed for use on wet and soft to very soft natural grass pitches that may also be muddy and/or waterlogged. Used worldwide, mainly during winter months, cleats made for soft ground have removable, replaceable screw-in studs that can be plastic, entirely metal or metal-tipped and typically come in a six-stud configuration (4 at the forefoot, 2 slightly longer at the heel). Screw-in studs must be checked and tightened before use as during manufacture they are machine-inserted and may be loose.

Turf

Turf (also called Astro Turf) is an older, more unforgiving type of synthetic-grass surface consisting of either sand or water-based carpet typically laid on concrete. Subsequently a harder and faster surface, cleats for use on turf (TF) usually have a cushioned midsole and a very durable, flat, multi-lugged or dimpled rubber outsole because turf requires light stud penetration. Owing to the hard nature of the surface and the friction it creates, no other outsole type should be used on turf and will result in considerable wear to the studs and soleplate edges and may result in injury.

Artificial Grass

Artificial Grass surfaces (also known as an all-weather surface) typically consist of 3G (rubber crumb) or 4G (longer pile, combination of rubber/sand infill, more closely resembling actual grass). Fifth generation artificial grass is yet to be widely used. Cleats made for AG are specifically designed, usually with less nylon to increase durability for the extra abrasion associated with synthetic grass and feature more numerous and densely concentrated studs. They may also vary in height for improved traction and/or hollowed-out to reduce weight and enhance cushioning. AG cleats can also be used on firm ground (FG), though performance will depend on how dry and firm it is.

Street

Street typically describes pitches or surfaces that are often found in inner-city residential areas. They consist of varying hard surfaces such as tarmac, paved or concreted hard-court areas and are often contained by a 'cage' constructed of steel or wire netting. Shoes for play on Street (ST) pitches will have an outsole made of extra hard-wearing rubber with a multi-lugged traction pattern similar in appearance to turf shoes. They also usually have midsole cushioning for shock absorption and comfort and are equipped with extended rubber toe bumpers to cope with scuffing.

Indoor

Indoor surfaces for small-sided games such as 5-a-side and Futsal are usually flat, extremely hard and unforgiving and typically consist of varnished wood, linoleum or a smooth, painted synthetic or composite material. For grip, indoor outsoles (IN) are usually flat to maximise ground contact and slick in appearance with a minimal, non-aggressive traction pattern or grooves for flex and to dissipate surface moisture. They typically use non-marking moulded gum rubber and usually have midsole cushioning for shock absorption and comfort. Indoor shoes cannot be used on abrasive street surfaces such as concrete or gravel as they will quickly wear out.